Dental Bridges in Brisbane CBD
A dental bridge is a noninvasive option that doesn't require surgery or any specialist care. Available at
Brisbane CBD Dental Clinic
, they're a simple way to fill in the space where you're missing a tooth.
What is a Bridge?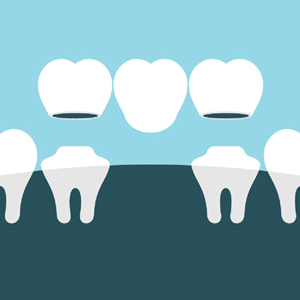 A bridge is a fixed device supported by neighbouring teeth with a crown that's then suspended into the gap where the tooth is missing.
Who Is a Candidate for a Dental Bridge?
If you are missing a single tooth or multiple teeth, a bridge may be your ideal solution to restoring your smile. You've likely thought about filling the gaps in your smile before but aren't sure where to begin. Fixed in place, a dental bridge is a cost-effective way to replace teeth. You won't have to worry about removing it or it feeling loose and out of place, making it a simple and stable option.
A dental bridge is a row of dental crowns joined together. The end crowns are placed on the teeth that neighbour the gap, suspending the middle ones into the open space created by your missing teeth.
There are two appointments necessary to get a bridge created. At the first visit with our team, we'll take impressions and gather other information. This data is sent off to our local laboratory to have your bridge fabricated. Once completed, it will be returned to our clinic. You'll come back for a follow-up to have your bridge fitted in place.
Your bridge is made to match with the rest of your existing teeth for a perfectly natural look.

Porcelain, ceramic and gold are all available. We can match the colour of your existing teeth and will be happy to advise you on which materials are most appropriate for where the tooth is in your mouth, your aesthetic preferences and your budget.
What are the advantages?

Getting a bridge doesn't require a visit to a surgical specialist; it's also a relatively simple option for tooth replacement. The entire process can be completed within just two weeks.
What are the disadvantages?
It may require the neighbouring teeth to be shaped and treated so that the dental bridge can be placed. The pricing is similar to that for
dental implants
. Additionally, it can be more challenging to clean than your natural teeth, making your oral hygiene habits of utmost importance.
Consult your Dentist Brisbane CBD for Options
If you'd like to learn more or book an appointment, contact our team today!
BOOK WITH US »
* Any surgical or invasive procedure carries risks. Before proceeding, you should seek a second opinion from an appropriately qualified health practitioner.

Dental Bridges Brisbane CBD QLD | (07) 3229 4367