Dental Crowns in Brisbane CBD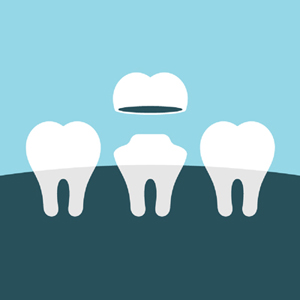 If you have a tooth that's been damaged, whether by trauma or cavities, dental crowns can be an ideal option to strengthen your tooth's structure. A simple solution, crowns are tooth-shaped caps that are designed to go over the tooth all the way to your gum line. They're custom-fitted to you and created with the strongest materials available at a local laboratory from expert technicians.
Will a Crown Work for Me?
Dental crowns are suitable for teeth that are:
Broken
Cracked
Fractured
Severely decayed
Worn
Additionally, if you're having a dental implant placed, a crown can be put on the implant to restore your smile and the function of your teeth. Each crown is modified to what your needs are, blending in perfectly with the appearance of your other teeth.
What's Involved?
There are two appointments required. First, we'll take impressions, which are then sent to our laboratory, where your crown will be fabricated. When complete, the crown is returned to Brisbane CBD Dental Clinic, and we'll welcome you back for another appointment to place it.
A Conservative Approach
At Brisbane CBD Dental Clinic, we believe in conservative dentistry and won't recommend any treatment that isn't essential. Even with crowns, if we feel that your tooth can survive another year or two without it, we'll inform you so that you can decide what's best.
Schedule Your Appointment Today
To find out more about crowns in Brisbane CBD and if they might be the right solution for you, contact us today! Our friendly team will be happy to discuss your concerns or get you booked in for an appointment.
BOOK WITH US »
* Any surgical or invasive procedure carries risks. Before proceeding, you should seek a second opinion from an appropriately qualified health practitioner.

Dental Crowns Brisbane CBD QLD | (07) 3229 4367