Inlays and Onlays in Brisbane CBD
At Brisbane CBD Dental Clinic, you will find an array of dental solutions that will fit you and your entire family's needs. We provide all ages care and can make sure that your teeth and gums stay in great shape over your lifetime. If you have had an issue with tooth decay, our first line of defense is usually a filling. We provide tooth-coloured fillings that will blend in perfectly with your teeth. If the area of decay is large, however, a filling may not be sufficient to address it. In such a case, we may recommend an inlay or onlay.
Finding What Works for You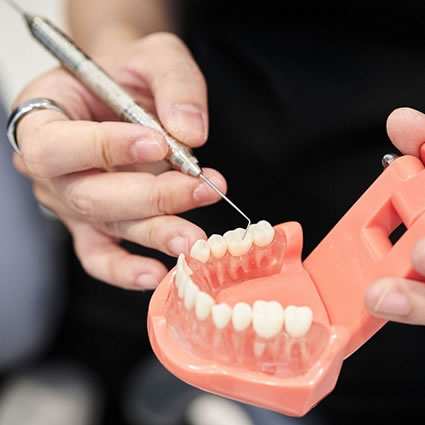 Inlays and onlays are one of the many treatment options we offer to improve your oral health. An inlay is placed on the chewing surface of a tooth when a dental filling isn't suitable. An onlay is placed over the cusps of the tooth for more extensive coverage.
They're available in different materials, which we'll be happy to discuss with you so that you can decide which is best for your situation. All will give your tooth the stability it needs, protecting it against further damage or decay. Both can be options to replace existing fillings if you have amalgam or composite materials that you'd like to exchange.
What to Expect
There are two appointments necessary to getting an inlay or onlay. At your first visit, we'll take impressions of the tooth that requires treatment, then send the information to our local laboratory. There, your inlay or onlay will be customised to exact specifications. Once it is returned to our clinic, you'll return to have it placed on your tooth. Your inlay or onlay Brisbane CBD is firmly bonded to your tooth so that it is a long-lasting solution to addressing your tooth decay.
Caring for Your Inlays and Onlays
Just as you need to brush and floss your natural teeth daily, inlays and onlays also require good oral hygiene. If cared for properly, inlays and onlays could last for a decade or more.
Get Started Today
Don't put off giving your oral health the attention it needs. Let's make sure you show off a brilliant and healthy smile. Contact our team today to schedule your consultation! We are preferred providers for HCF and NIB.
BOOK WITH US »
* Any surgical or invasive procedure carries risks. Before proceeding, you should seek a second opinion from an appropriately qualified health practitioner.

Dental Inlays and Onlays Brisbane CBD QLD | (07) 3229 4367