Veneers in
Brisbane CBD
Have you ever looked at your smile and wished that it had that radiant, movie star look? The secret of all those celebrities who show off their gorgeous pearly whites is available at
Brisbane CBD Dental Clinic
: dental veneers. With veneers, you can have a perfectly aligned smile that you're thrilled to show off!
Who Is a Candidate for Dental Veneers?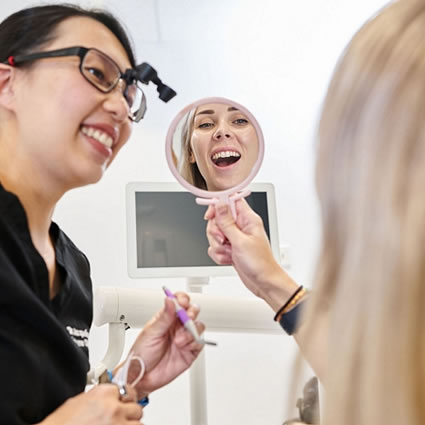 Veneers have the power to transform teeth that are:
Chipped
Discoloured
Gapped
Misaligned
Misshapen
Uneven
Your teeth will have an aesthetically pleasing shape and appearance after your treatment with veneers.
How to Get Started
Made up of a thin shell created from durable, long-lasting materials, veneers are bonded to the surface of your front teeth. The first step involves booking an appointment at our practice. Then, we'll ensure that the existing tooth structure is perfectly shaped to receive the veneer. In the meantime, you'll be given temporary composite veneers you can wear until yours have been created.
You'll meet with our laboratory technician to make sure your veneers are the exact shade you want. By choosing local technicians, we ensure a high quality of work and can speak directly with them if you have any concerns. This meeting means that your veneers will be exactly what you want, made to your precise specifications with no question about the result you will get. Once created, they'll be sent to us, and we'll replace your temporary veneers with the permanent ones.
Keeping Your Veneers Healthy
Your brand-new smile can be treated as usual, with regular brushing, flossing and dental checkups to protect your continued oral health. To avoid any damage to your veneers such as chipping, don't open packaging with your teeth. Avoid biting on hard substances such as lollies or ice. At your regular appointments, we'll evaluate your veneers to make sure that they remain in great shape.
Create Your Perfect Smile
If you'd like to learn more or book an appointment for veneers Brisbane CBD, contact our friendly team today!
BOOK WITH US »
* Any surgical or invasive procedure carries risks. Before proceeding, you should seek a second opinion from an appropriately qualified health practitioner.

Veneers Brisbane CBD QLD | (07) 3229 4367