New Patients at Brisbane CBD Dental Clinic
Your New Patient Experience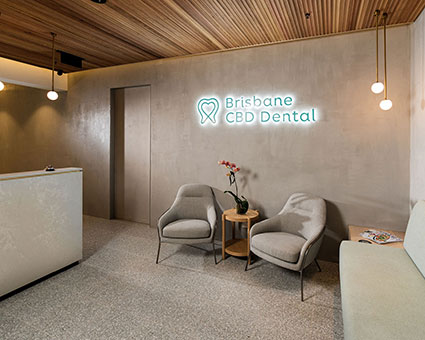 Visiting a new dentist for the first time can sometimes be a bit unnerving. Here, you'll find a dental care team that's focused just as much on patient relationships as we are the health of your mouth. As we take the time to get to know you, we'll be better able to address your dental needs. Spending more time with our patients ensures better communication and a higher level of trust.
Always Know What to Expect
During your appointment, we'll explain each step of care. You'll know exactly what to expect and feel, minimising potential anxiety or hesitation you have about seeing a dentist.
Should you have specific oral health issues or concerns, we'll talk through our findings and co-plan your care alongside you. We believe in empowering our patients through education, allowing them to play a direct role in the future of their oral health.
Competitive Pricing
Our in-network provider accepts all health funds and processes claims on-the-spot via HICAPS. We also provide flexible payment plans. Quality and clear pricing makes it possible for you to access the best care without nasty surprises.
Comprehensive Oral Exam (011) $67
X-Ray (022) $47
Dental clean & polish (114) $121
Flouride treatment (121) $46
New patient deal $199
Comprehensive examination, x-rays, dental clean & polish, fluoride treatment,
and consultation about your concerns and outcomes.
Includes 011, 022, 022, 114, 121 valued at $328
Emergency Dentistry
We make every effort possible to provide same-day emergency appointments. If you need to contact us after hours, the best thing to do is to email us with "emergency" in the subject line. In most cases, you'll receive a reply within two hours.
When You Arrive
Your goals and concerns drive everything we do. When you contact us to reserve an appointment, be sure to share your priorities with us. We'll reserve an appropriate length of time to visit and evaluate your bite as necessary. Perhaps you have a specific tooth that's bothering you or you're due for a complete exam and clean. Our patient coordinators will ensure that the correct type of visit is set aside to meet your needs.
Accessible
You'll find our practice conveniently located next to affordable parking and public transit stations. We're positioned just next to King George Square bus terminal, approximately 20 metres away.
Plus, our multi-lingual staff are able to communicate with a diverse range of individuals. We're fluent in Mandarin and Japanese. Simply mention your language preference when you make you call to book your appointment.
We Listen
A positive experience and quality care are dependent upon impeccable communication. Contact us today to experience the difference for yourself!
BOOK WITH US »

New Patients at Brisbane CBD Dental Clinic | (07) 3229 4367