Dental Implants in Brisbane CBD
Those who are missing a single tooth, several teeth or all teeth understand what it's like to lack the proper dentition. Not only might you feel self-conscious when you smile or talk with people, but likely, you also miss having the full function of your natural teeth.
Why Choose Dental Implants?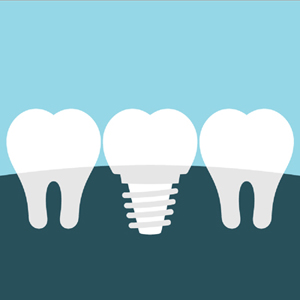 Dental implants are the most advanced solution for tooth replacement, and they're available to you at Brisbane CBD Dental Clinic. The many advantages of this option include:
A completely natural look
Can be used to replace one tooth, multiple teeth or all of your teeth
Doesn't negatively affect the health of your other teeth
Has the function of a normal tooth
Is easily maintained for a lifetime
There are other tooth replacement options available at our practice such as dental bridges or dentures. We will carefully evaluate you, then let you know what will work for your situation. You'll be able to choose how you would like to proceed with treatment.
What to Expect in Getting a Dental Implant
Once you have decided to get a dental implant, the treatment is completed within two separate stages.
You'll go to a specialist practice to have the implant placed. This surgery is completed while you're completely anaesthetised, so you'll be comfortable throughout the procedure. A healing period is then necessary to ensure that the implant integrates with your jawbone. This process can take about three months. After that's been completed, you'll return to our clinic to complete the next step.
We'll take impressions to design the perfect restoration. A bridge, crown or denture can be placed on the implant or implants, depending on what your particular needs are. After the suitable device has been crafted, it'll be seamlessly put into place.
Keeping Your Dental Implant Healthy
Now that you have your implant, you can brush, floss and have regular checkups to ensure that your dental implant stays healthy, just like the rest of your teeth. Though your implant won't get a cavity or discolour like a normal tooth, the gum around it can still get gum disease. That's why it's essential that you treat it as a natural tooth with the proper brushing and flossing techniques.
Frequently Asked Questions
What are dental implants?
Dental implants are a type of restoration used to replace missing or damaged teeth. They are extremely durable and can last for a lifetime with proper care. Additionally, dental implants help to improve bite strength and provide support for the jaw and facial structures. Unlike traditional bridges, dental implants do not rely on neighbouring teeth for support.
What are the advantages of dental implants?
Dental implants offer several advantages such as: Being stronger than natural teeth, not affecting neighbouring teeth, being hypoallergenic, and being safe and comfortable during installation.
Who is a good candidate for implants?
If you are missing a tooth or have a damaged tooth, dental implants may be a suitable option for you. However, the final decision on whether dental implants are the right choice for you depends on various factors such as overall health and the structure of the jaw and bone. We're happy to provide you with more information and determine if dental implants are right for you. Simply contact the practice today to get started.
Are dental implants affordable?
Our prices are affordable and the quality of our work as well as the specialists we partner with is exceptional. When selecting a provider for dental implants, be mindful of looking just at the lowest price as you want your implant to be fit properly so it is comfortable and lasts a lifetime. We have payment plans and installment plans, as well as accept all health funds. We also have HICAPS on site.
How long does dental implant last?
A quality dental implant will last a lifetime with proper care. There are two parts to a dental implant – the dental screw that fuses with your jaw bone, and the dental crown that is placed over the implant which is the visible part. A dental crown may need to be replaced every 15 years depending on a number of factors, like how well it is cared for. Grinding and clenching your teeth may wear down a dental crown more quickly. We'll discuss ongoing care as part of consult so you have an idea of all the long-term costs associated with your chosen treatment.
Are there any alternative treatments to dental implants?
We pride ourselves on taking the time to understand our patients and creating a care plan that is tailored to each person's unique needs. We talk about your oral health habits, goals, any issues you're having, and your budget. We'll provide you with our recommended treatment plan and also discuss other options. Depending on the reason a patient is considering a dental implant, another treatment may be a suitable alternative. Each treatment has pros and cons and we can discuss these with you at your consultation to help you make an informed decision that will suit you.
Schedule Your Appointment Today!
Are you wondering if you might be a candidate for dental implants Brisbane CBD? We welcome the opportunity to meet with you and evaluate your needs. Contact our friendly team today to schedule your consultation with us!
* Any surgical or invasive procedure carries risks. Before proceeding, you should seek a second opinion from an appropriately qualified health practitioner.

Dental Implants Brisbane CBD QLD | (07) 3229 4367